Quick Pick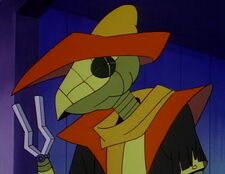 Quick Pick is a robotic pickpocket and escape artist.
History
Quick Pick was mistakenly released from captivity by Lion-O on Third Earth, but was later recaptured by Mandora and the ThunderCats after he, Mandora, and Lion-O were captured by Mudhogs.
He redeems himself when he helps Mandora and the ThunderCats recapture Captain Cracker, Rhino, See-Thu, and other escaped prisoners from the Gray Penal Planet. Mandora considers asking the galaxy governor to parole him in her custody as an assistant.
Appearances
Community content is available under
CC-BY-SA
unless otherwise noted.