Prank Call is the fourth episode of ThunderCats Roar, the 2020 TV series.
Cartoon Network Preview
Text taken from Cartoon Network's Website.

Season 1 - Episode 4
Lion-O wants to prove to the ThunderKittens that he's not just some boring old adult, like Tygra, even if it means ignoring his instincts and messing with an obviously evil crystal.
Synopsis
Characters
Weapons/Items
Vehicles
Locations
Jade Lagoon
Bottomless Gorge
Double Bass Mountain
Artifact structure for crystal (green crystal)
unknown crystal location (pink crystal)
Animation Errors/Glitches
The ThunderTank is colored blue in the Cats Lair, which likely is cause the rest of the episode shows the ThunderTank in low lighting.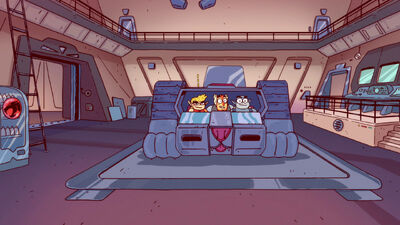 Trivia
The running gag for the episode is that there is a manual for that and you shouldn't read them cause that is what Tygra would do.

By the end of the episode Lion-O finds and reads the manual for crystals. This finishes Lion-O's character arc for the episode.

SilverHawks is directly referenced as a in-universe TV show. Bluegrass playing his Hot Licks (like in the SliverHawks intro), the Mirage can be seen, then Quicksilver on the Mirage bridge.
Lion-O, while boasting to the thunderkittens, he references the Caveman arm-wrestling him for the Time capsule from episode The Time Capsule in the original series.
Gallery
Community content is available under
CC-BY-SA
unless otherwise noted.