Mongor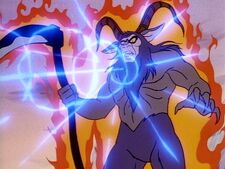 First appearance | Mongor
Last appearance | Mongor
Appeared in | Mongor
Statistics
Name | Mongor
Gender | Male
Species | Satyr
Voiced by | Bob McFadden
I am the power of everything you fear! I am in everything you see! I am all around you... above you... beneath you... I am Mongor!
Mongor is a goat-like demon who grows in power where ever he finds fear. He was released from his tomb by Wilykat and Wilykit when they were exploring a ruined temple on Third Earth. He was later defeated by Lion-O when it was discovered that fear gives him power and bravery deprives him. He was resealed in his tomb and wasn't seen again for the rest of the series.
Appearances
Mongor (1st appearance) first season episode 19
Trivia
Gallery
Community content is available under
CC-BY-SA
unless otherwise noted.