Larry Kenney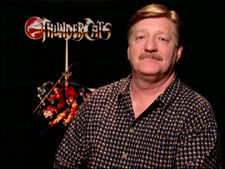 Statistics
Name | Larry Kenney
Affiliation | ThunderCats

Larry Kenney (Born August 5, 1947) is an American radio personality and voice actor. Larry started his radio career at the age of 15 as a Disc Jockey. He joined the radio show "Imus in the Morning" in 1973 as a regular cast member where he did voice impersonations of a number of famous people such as Elvis Presley, General Patton, Ross Perot, and Richard Nixon.
In the 1980s, Larry was hired to provide the voice of Lion-O, the main protagonist in the ThunderCats (original series) cartoons produced by Rankin/Bass. He also voiced a number of other characters on the show. After his stint on ThunderCats, Larry went on to provide his voice in the cartoons SilverHawks and TigerSharks, both also produced by Rankin/Bass. He also did voice work for several breakfast cereal characters, including Count Chocula and Sonny the Cuckoo Bird.
He and his wife Carol Ann Jacobs Kenney have three children: daughters Kerri and Ashley, and son Tanner.
Characters voiced
ThunderCats (1980s)
ThunderCats (2011)
ThunderCats Roar!
Trivia
Once he saw two boys talking about which ThunderCats action figure they were going to get in a "Toys 'R' Us" store. In his Lion-O voice, he suggested that the boys get Lion-O and as he walked away, one of the boys said, "He doesn't even sound like Lion-O!"
Whenever his two characters had dialog back and forth, he would record both characters' voices in real time.
Larry, along with Jim Meskimen, are two of only a small number of people who have contributed to both the Original ThunderCats series and the 2011 series.
Larry also voiced the character Bluegrass in the TV series Silverhawks
External links
Community content is available under
CC-BY-SA
unless otherwise noted.