LJN Toyline: Cheetara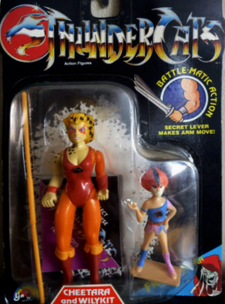 This is a image of Cheetara as she appears in Series 2 with Wilykit PVC.
From Toyline
:
LJN Toyline
Series  :  Series 1 through Series 3
Features  :  Battle-Matic Action lever on the back to move Cheetara's arms
Accessories  :  Baton, Wilykit PVC
Cheetara is a toy that was released in every series of the LJN Toyline and is based on the 80's version ThunderCats series character Cheetara.
Assortment Number
3500 (Series 1)
3500 (Series 1 with Wilykit)
3545 (Series 2)
3545 (Series 2 with Wilykit)
3606 (Childbro)
Features
The toy featured the "Battle-Matic Action" where by pushing the lever on its back down made both of Cheetara's arms move up and down. The figure also had poseable arms, head, and legs.
Accessories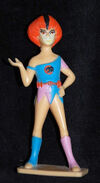 The main accessory included with all the figures was the Baton/Staff. The Staff was made of yellowish orange plastic and was about 7 inches long with a bulge in the middle.

Some figures also included a PVC Wilykit figure. The PVC Wilykit did not have any articulations or features. When LJN released its second wave of ThunderCats toys, a much larger and fully articulated Wilykit figure was released as a separate toy.
Variations
There were two main variations of the Cheetara figure. One had a darker skin tone and one had lighter skin tone. In some light skin toned figures, the boots were also a slightly lighter shade of orange.
Gallery
Community content is available under
CC-BY-SA
unless otherwise noted.