LJN Toyline: Cats Lair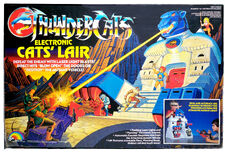 This is an image of the box of the Cats Lair
From Toyline
:
LJN Toyline
Series  :  Series 2 and Series 3
Features  :  (see description)
Accessories  :  Mutant Attack Sled, Ion Cannon, Ladder, Stickers & Instruction Sheet
Cats Lair is a toy that was released in series 2 and 3 of the LJN Toyline and is based on the 80's version ThunderCats series fortress Cats Lair.
Assortment Number
Features
The Cats Lair playset was the biggest toy produced in the Thundercats LJN Toyline standing almost 20 inches tall. It had numerous features such as:
Pivoting cat head that fired and received laser light beams
Laser-activated counter that registered hits and sounded "piercing" alarm
Secret door to trap invaders in underground cell
Huge cat paws that lifted to reveal "Ion Beam" cannon and secret battle station
Battle stations for 5 ThunderCats defenders. Figures not included.

The Cats Lair's Laser system also interacted with all four of the Laser Sabers . The playset required 8 "AA" Alkaline batteries to operate (not included).
The object of the game was to destroy the opponents "Defense Shields" by hitting the "Target" with the Laser Beams. The Mutant Attack Sled's Target was located at its front and a direct laser hit to it would cause its Defense Shield to drop down and a loud Buzzer to sound. To rest, the Defense Shield would be flipped up. The cats Lair target was located in its mouth and it would take nine direct hits t o weaken its Defense Shield. At this point an alarm would sound and a tenth direct hit would blow the Entrance Door open.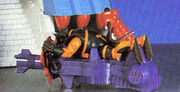 The box design and artwork remained the same throughout the series with the back depicting the same figures and vehicles as the Series 2 Figure cards.
An interesting thing to note is that the Mutant Attack Sled was depicted as being purple in color with orange shields on the LJN Mini Catalogues as well as the box art even though the actual vehicle's colors are inverse of those.
Accessories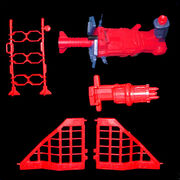 The accessories included with the playset were Mutant Attack Sled, Ion Cannon, Ladder, Stickers and Instruction sheet. 

Removable pieces included with the playset were a Trap Door, 2 Cell Walls, 2 Cell Wall Brackets, Cell Door, Cat head and Teeth pieces, Control unit (with removable battery cap), Dome piece and metal rod (to attach Cat head), 2 Cat paws and Claw pieces.
Variations
There are no known variations of this playset.
Gallery
Community content is available under
CC-BY-SA
unless otherwise noted.